Search found 924 matches
Sun Aug 12, 2018 1:53 pm
Forum: Games/Software
Replies: 17
Views: 270
I don't remember playing any other game than Quazatron or Quartet, two good games, by the way... I'll leave my vote to head or tails to decide!

Sat Aug 11, 2018 5:07 pm
Forum: Games/Software
Topic: Game of the day...
Replies: 97
Views: 4943
Android One
by Vortex Software. One of the first Spectrum games I've ever played. Very cool, but I've always thought a bit longer map would have been great. A nice game, anyway.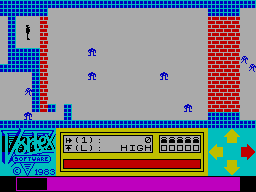 Sat Aug 11, 2018 9:13 am
Forum: Sinclair Miscellaneous
Topic: Friday Quiz
Replies: 10
Views: 146
Number 4 is just brilliant!

Mon Aug 06, 2018 10:04 am
Forum: Emulators
Replies: 1
Views: 119
The question might be silly. I have an old 10' Android tablet. Sometimes I run some emulators on it (Xpectroid, Marvin)... The size of screen makes it perfect to play but the use of a touch screen in most games spoils it. What If I use a keyboard (say, one of those tablet covers with integrated blue...
Fri Aug 03, 2018 10:24 pm
Forum: Hardware
Topic: ZX Vega+ Discussion
Replies: 105
Views: 4591
I've got a DS lite and occasionally play games ZXDS games which I find pretty good... But let's face it, a lot of Speccy games were hard. And crikey, they're so much harder on a small screen. 3DS/2DS XL is a much better option (I first played in a DS model, it was OK, then 3DS XL, amazing, so going...