Search found 222 matches
by Seven.FFF

Sun May 20, 2018 10:19 pm
Forum: Graphics
Topic: Best geology...
Replies: 22
Views: 504
Does Virus count?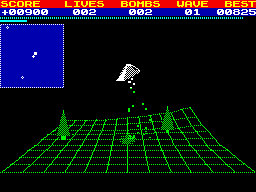 by Seven.FFF

Thu May 17, 2018 9:29 pm
Forum: Programming
Replies: 11
Views: 250
The early type-ins were usually atrocious "scans" (primitive photocopies? actual photographs?) of user printouts where the ribbon had dried out, or there was a roller slippage going right across a line. Even if you typed it in accurately, half of it was often undecipherable!
by Seven.FFF

Tue May 15, 2018 6:27 pm
Forum: Programming
Replies: 8
Views: 225
It's not that there's no listing. It's that the machine is crashed, and is stuck in an endless loop. Not your BASIC program, but the part of the machine that reads and executes BASIC, and responds to keypresses, is no longer doing that. Normally you get chucked back to a reset and (c) 1982 when that...
by Seven.FFF

Sun May 13, 2018 9:01 pm
Forum: Announcements
Topic: Introduce yourself!
Replies: 192
Views: 10478
Hi Paul, good to see you. I'm still using your ZX-82 font, it's great

AA has added FZX fonts to z88dk, as one of the options for stdout, so hopefully good 8-bit typography will start to spread!
by Seven.FFF

Fri May 11, 2018 10:59 pm
Forum: Programming
Replies: 17
Views: 453
You can probably get away with printing spaces to clear your sprites, at least for a while. And if you're moving in whole character jumps. If you start exploring moving one pixel at a time, or your flicker gets too bad, then it might be worth exploring OVER. There's two variants: Think of OVER 1 as ...
by Seven.FFF

Wed May 09, 2018 3:32 pm
Forum: Programming
Replies: 20
Views: 322
We will be in our 90s, buying nostalgia-driven recreations of pacemakers and colostomy devices that we used in our 70s!