Search found 356 matches
by MatGubbins

Wed Jun 20, 2018 6:06 pm
Forum: Sinclair Miscellaneous
Topic: Spectrum memes
Replies: 73
Views: 2335
https://pp.userapi.com/c824410/v824410069/16a182/Yn8akhE4wBQ.jpg $+4 gives me headaches at the recalculating the address. M2+1 is easier on the eyes and calculating. The only problem with using m2+1 is that for the beginner programmer they might be adding 2+1 together and getting 3 and getting the ...
by MatGubbins

Mon Jun 18, 2018 9:45 pm
Forum: Other Retro Stuff
Topic: island vacation
Replies: 18
Views: 335
What specs are the PC with Win 98? - I'm running a 1.3ghz Celeron with Win98 + 512mb SD Ram, onboard graphics, 200gb IDE hard drive and it's pretty damn fast. Can we have emulators on the PC? Anyway, the holiday is in Hawaii, once I've sorted my passport/visas, I'll sod the computer and use the limi...
by MatGubbins

Tue Jun 12, 2018 10:09 am
Forum: Games/Software
Replies: 11
Views: 285
Let's add Zub to the mix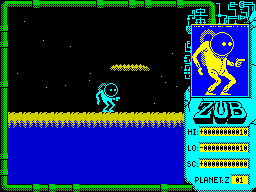 The energy display will strip away Zub's outfit to show his bones.