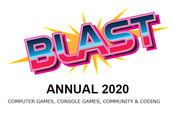 BLAST ANNUAL 2020 is a new publication work in progress.
The publication is about computer games (8 bit based - c64, amstrad cpc, zx spectrum, msx, atari, bbc etc), console games, community and coding.
We currently have an exclusive mult platform game being made for Blast Annual 2020 called Crazy Blaster. A first wip zx speccy image is shown below
If you are interested to learn more or would like to join in the community and even contribute then please come to the fb group.
we are looking for people who would like to write articles on coding on the zx spectrum at any level basic, intermediate or advanced, people who hold events for the zx speccy during 2019 - these events can be anything at all big or small, people who have created artwork and demos in 2019 on the zx speccy, developers who have released zx speccy games and anything else zx speccy related.
There is a closed fb group for you to join in the community and keep up to date with what is happening - here is link if you want to join the community but if the link won't work for you just let me know and i will invite you.
https://www.facebook.com/groups/2286690961659824/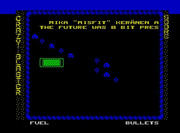 Crazy Blaster 1st wip screenshot