El Bombero
(
The Firefighter)
by Arturo Pérez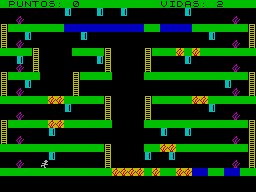 As a firefighter, you must take all the water drums, avoiding fire. If you step on the blue ground fire will appear behind you.
The keys are:
7 - go upstairs and jump
5 - left
6 - go down satirs
8 - right
That's the theory. On the contrary, the practice is it's very difficult to control the character. I can't hardly go upstairs, sometimes keys are late to respond... exasperating!