So I was doing a bit of reading on Sorcery on here
https://spectrumcomputing.co.uk/index.p ... 96&id=4650
and the entry says
The compilation Now Games 3 contains an updated version of Sorcery ('Sorcery +'), with improved graphics and extra rooms.
Now I know that Sorcery+ is heralded as a great Amstrad CPC game, but I only every played Sorcery on my copy of Soft Aid. So I thought I'd play Sorcery+, but unfortunately there seems to be no file available to download.
I downloaded the TZX for Now Games 3 and sure enough, Sorcery on that compilation is very much different!
The original loading screen and in-game screen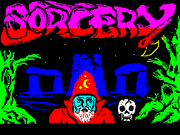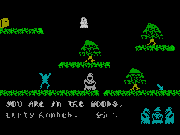 But check out Sorcery+ (screenshots I've taken)!!!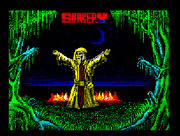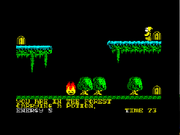 So yes, it's a very much different game to Sorcery. It's got more rooms and it's got significantly better graphics.
Playing Sorcery+, I still have no idea what I'm doing but the graphics make a real difference. Did anyone else know about this version? Seems strange that it has no coverage at all (and surely there needs to be a new entry for Sorcery+)!!