---
Dynamite Dan
Posts: 1050
Joined: Tue Nov 14, 2017 6:55 am
Location: Málaga, Spain
The trascendental question we all have in mind. Sort of.
Vote.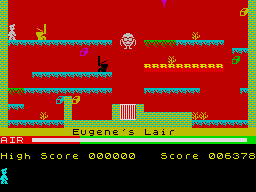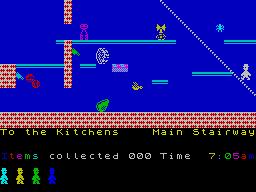 ---
Dynamite Dan
Posts: 1050
Joined: Tue Nov 14, 2017 6:55 am
Location: Málaga, Spain
The adventure component made my vote go to JSW. And I never go further than 3d screen in Manic Miner, I think

---
Easy one for me, MM.
I've never been a big traveller so JSW's sprawling map was too overwhelming for me, I never felt like I had a chance of completing it (little did I know it was physically impossible anyway!).
MM you can take screen by screen, and see your progress, or not. I think the Processing plant was my best BITD, now it's the Warehouse - but I WILL COMPLETE IT SOMEDAY, on bread & water.
This goes for both but, the graphics, personality, levels - superb. To think Matt Smith did it when he was 17 astounds me, I was just about toilet trained at that age.
Juan F. Ramirez

wrote:

↑

Thu Nov 30, 2017 7:21 am

I never go further than 3d screen in Manic Miner, I think
For shame.
---
It's a tricky one! I have very fond memories of both. MM was the first game I got back in Christmas 1983 and the whole family tried it out. Amazing though it seems these days - nobody was able to get beyond the Central Cavern until IIRC my Aunt managed it after playing for hours once I had gone to bed!

Jetset Willy was another dimension - the anticipation in the run up to its release, and then the first time I played it having been down to WHSmith on a Saturday morning to grab my copy. It seemed incredible that a game could be so big and I spent hours and hours exploring. The fact that it couldn't be completed was irrelevant - I just wanted to see if I could visit every screen.
Both games are legendary - but because of the fun I had exploring, and the anticipation in the run up and the fact that for a couple of weeks - everyone in the playground seemed to be talking about JSW, it gets my vote.
A hollow voice says "Plugh"
---
Heh brilliant. I'm trying imagine any of my Aunt's managing to make willy jump let alone finish.
(Err)
---
Back in the day I preferred JSW, seemed so much more to it and each game could be different, depending on where you go. Nowadays I am quite likely to play MM, as I can have a quick game and see how many screens I can complete before moving on to something else. JSW just seems a bit to open ended for my lifestyle at the moment.

For the record I never did complete MM, or get particularly far in JSW when I was younger.
---
I've spent more time playing JSW as I love exploring the mansion but Manic Miner is the better game. One thing I don't understand is why Eugene's Lair is feared by so many. It's one of the easier screens!
---
I'm okay with it now but Eugene's lair used to cause me no end of problems. It was mainly the second platform down where you had to jump over Eugene and still avoid the black toilet.
---
Manic Miner
Posts: 691
Joined: Mon Nov 13, 2017 3:16 pm
Hmm. Both have always annoyed me to no end.
---
Amazingly, she went out and bought a Spectrum straight after that Christmas!
As for Eugene's Lair - I never had too much problem with it, once I got the timing right on the second platform, and the long jump in the bottom right hand corner. Some of the later screens are really hard and I don't think (IIRC) I got past the Warehouse without cheating.
A hollow voice says "Plugh"
---