I've always been really curious to know what Ultimate did before they were Ultimate, and I've been having a little dig around.
We know for sure that they made Dingo (1983) - it's credited onscreen to Ashby Computers And Graphics Ltd.
It seems to be universally accepted that they also made Blue Print for Jaleco the previous year, though I can find no actual primary evidence for this.
It's certainly in their sort of style, though, and has a noticeably British sense of humour (get killed early and it'll enquire as to whether you read the instructions).
A
1985 article in Commodore User
credits it to them, but also Gyruss, which seems rather more dubious - Wikipedia
lists
a whole bunch of Japanese guys as authors.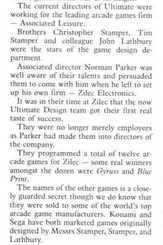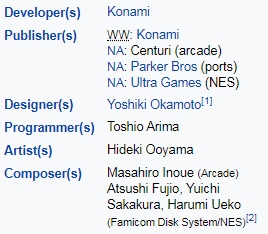 The article says that the Stampers made 12 games for Zilec Electronics, but that the other 10 are a closely-guarded secret. So what else did the company publish? Games Database gives us a list which excludes Gyruss but otherwise conveniently comprises
exactly 11 games including Blue Print
, ie 10 others.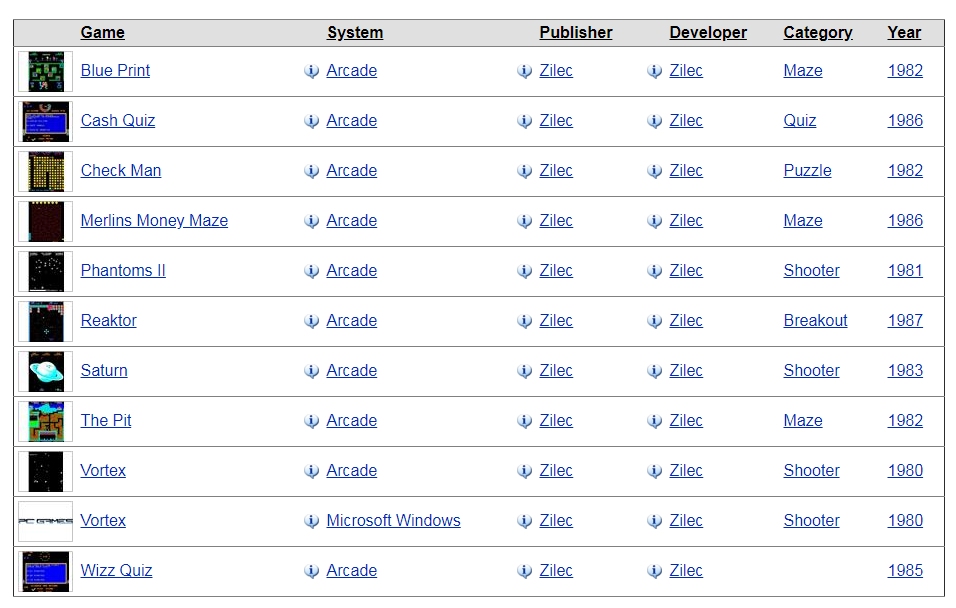 We know we're looking in quite a narrow window - Jetpac, the first proper Ultimate game, came out in May 1983. The Stampers
claimed at the time
to be
"the most experienced arcade video game design team in Britain"
so they must have had some titles to their name by then.
Check Man (1982), then, seems like a no-brainer. Published in both Zilec and Jaleco versions, it's very much got the look and feel of the games we know they made, and the timing and connections fit.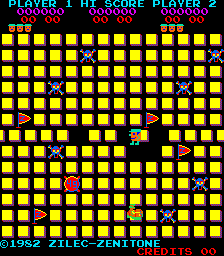 Wizz Quiz and Cash Quiz, meanwhile, have some interesting features:
That wizard character will look awfully familiar to Atic Atac fans, and the game's
ticking-clock sound effect
is an absolute dead ringer for Atic Atac's footsteps. (Wizz Quiz also features the music from Manic Miner, weirdly.) I'm calling it - both games are Ultimate's work.
(Interestingly they were also published by Konami as well as Zilec, so maybe we can't rule Gyruss out entirely.)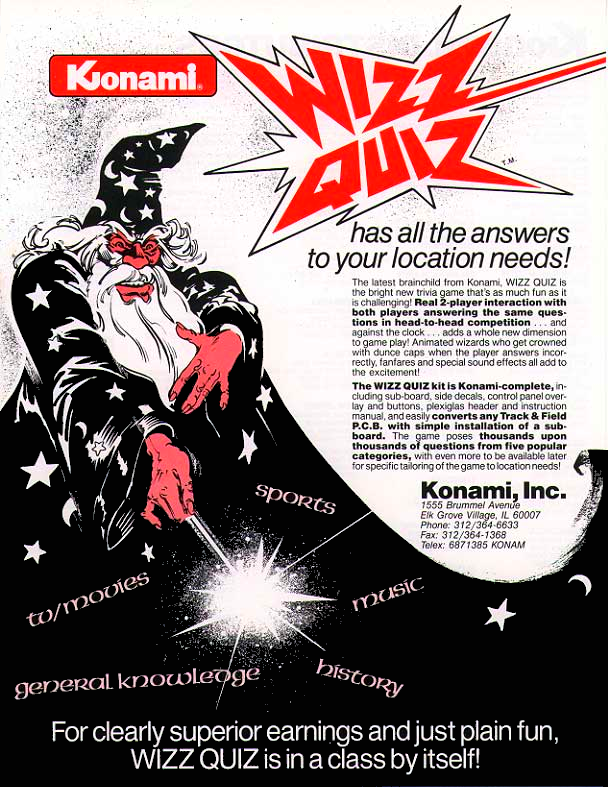 Merlin's Money Maze - an incredibly savage cash-prizes maze game - also has a familiar-looking wizard and definitely feels like the work of the same authors as Cash Quiz and Wizz Quiz, so we'll chalk that one up too.
From here, though, clues get thinner on the ground. Not listed on that GDB page is another Zilec/Jaleco collaboration called Grasspin, and the minute I took a look at a
video of it on YouTube
I thought
"that's got the Ashby Computers & Graphics vibe all over it"
.
(Fun trivia fact: its music is a slightly tweaked version of the soundtrack from Namco's
New Rally-X
, released two years earlier, and itself based on the intermission music from Pac-Man.)
While researching Grasspin, I stumbled across the
Wiki entry for Jaleco
, which sure enough explicitly credits it to ACG, although it doesn't offer any citation for the claim.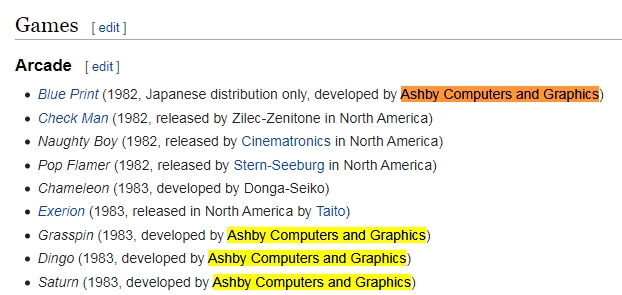 It also adds Saturn (1983) from the GDB list.
Saturn is a pretty bog-standard Galaxian derivative
, and the only tangible connection is that it has a very similar front end to Blue Print. Interestingly, it does share some aspects of Gyruss, though, in the way you travel through a solar system past various planets to the accompaniment of vaguely classical-sounding music. We have no reason to disbelieve the Wiki entry at this point, so let's put it in as well.
(Note, btw, at 3m in that video, some short bursts of some music you may have heard in another arcade game. Buggered if I can put my finger on it at this exact moment.)
[EDIT: this page appears to confirm the ACG team's involvement in both Grasspin and Saturn.]
What about the rest of the GDB list? We can rule out Reaktor as it's from 1987. And we know from a Retro Gamer feature in around 2010 that The Pit was the work of a Bridlington chap by the name of Andy Walker, later of Taskset. But funnily enough there IS a strong
Ultimate connection there
:

(The same article that quote is taken from notes that Walker went on to design an unproduced game called Stamper. The RG feature also posits the notion that The Pit, which came out in 1982, may in fact have been the Stampers' very first published videogaming work, so it must have preceded Blue Print. This seems an apt time to repeat my call for a Speccy port based on my own mockup - guys, it might be the first Ultimate game ffs

)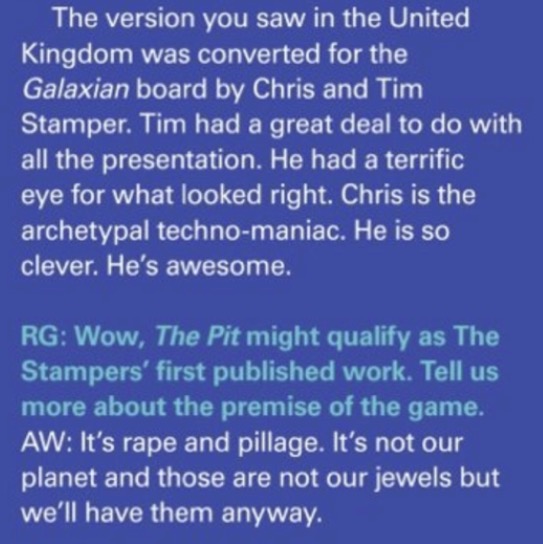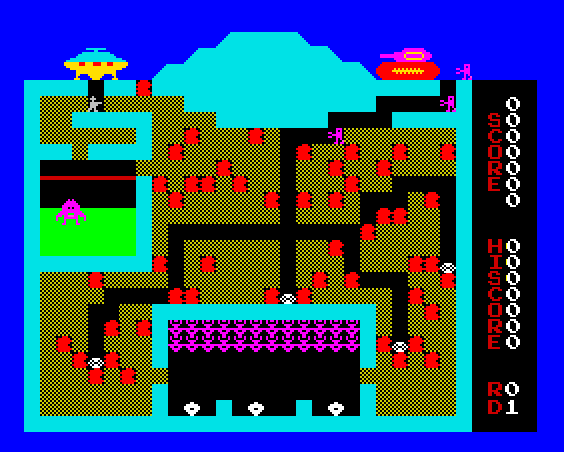 But WAS it the first? Vortex dates back to 1980 and is a primitive monochrome Asteroids knockoff produced for Zilec by Associated Leisure, but it's possible the Stampers did some sort of work on it, as we learn from another Retro Gamer piece a year earlier: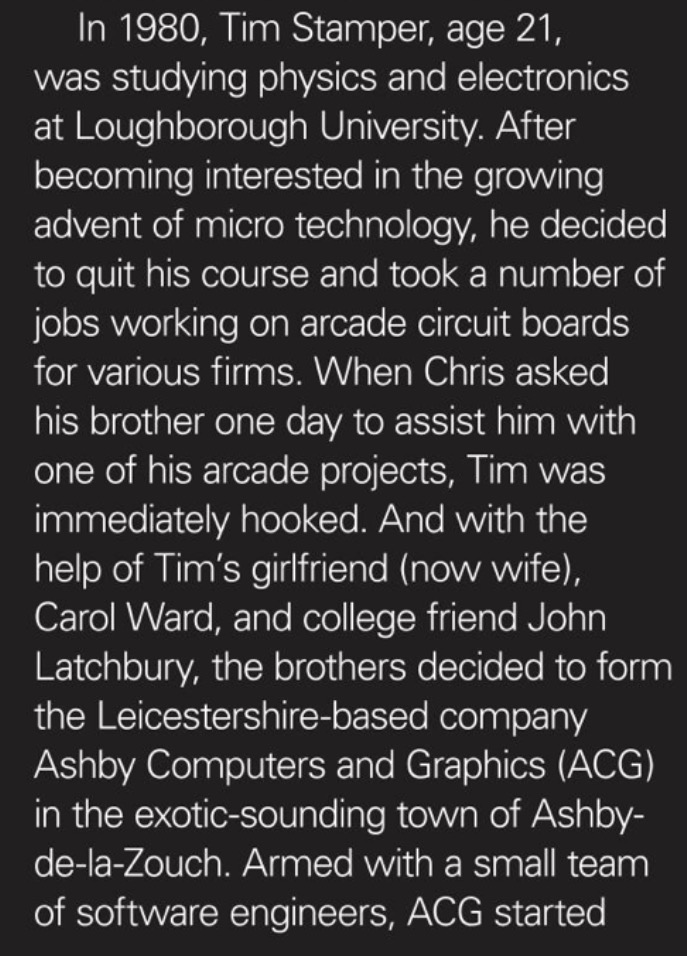 Phantoms II
, another mono affair from 1981, might also just sneak in before they left that year to form ACG and work on Blue Print and Dingo. It's a Space Invaders hack notable only for the fact that if you hold down the fire button your spaceship launches into the air, almost as if it was attached to some sort of... jet pack.
(The attract sequence also sees a large fighter jet scroll onto the screen in a manner rather reminiscent of that in Saturn.)
So where are we up to? We have either official confirmation or at least credible cases for the following:
- Dingo
- Blue Print
- Check Man
- Wizz Quiz
- Cash Quiz
- Merlin's Money Maze
- Grasspin
- Saturn
- Vortex
- Phantoms II
That's 10, and Commodore User might have been slightly over-egging their part in The Pit to make it 11. And if we add Gyruss, which CU explicitly credits them with (rightly or wrongly), that'd be the 12.
Is that - finally - the full history of the Speccy's most enigmatic developers? We may never know. But at least it gives us the chance to look at a few obscure old games with fresh eyes, eh?