---
Dynamite Dan
Posts: 1636
Joined: Mon Nov 13, 2017 3:16 pm
I forget if he talks specifically about
Ghouls
here or not, but it's worth a watch anyway:
---
Thanks, I'll add it to my new year's watch list

The 128k version of Ghouls was actually more of a disappointment not because of any gameplay or graphical issues (there are none), but because they totally disregarded that level 1 tune. GnG (both) are closely linked to that melody in my mind so much so that I consider the Speccy version of Ghosts 'n' Goblins to be the superior implementation purely because it's silent musically - which is better than having the wrong tune.
By a country mile.
---
Manic Miner
Posts: 747
Joined: Wed Nov 15, 2017 11:10 am
Location: Messina, Italy
Contact:
Like Ralf and Ivan, I never understood why Ghosts N Goblins is held in such a high esteem. I was a fan of the arcade coin-op and when I managed to play the Elite conversion, I was disappointed, also because I had the chance of playing the C64 version before. Especially when compared with other Elite Spectrum conversions of the same time like Space Harrier or Bomb Jack, it is a weak show. Therefore my vote goes to Ghouls N Ghosts.
---
Ghouls n Ghosts whilst being incredibly difficult, it is possible to make some progress.
Ghosts n Goblins is just impossible! And the enemy sprites get lost in the background!
---
Manic Miner
Posts: 886
Joined: Mon Nov 13, 2017 9:03 am
And don't get me started on Goblins n Ghouls.
---
---
Dynamite Dan
Posts: 1636
Joined: Mon Nov 13, 2017 3:16 pm
---
Berk
Posts: 17
Joined: Tue Jan 08, 2019 4:15 pm
I'm also surprised by the poll results.

Ghosts 'n Goblins (the original arcade version) is one of my favourite games of all time (I actually prefer it to Ghouls 'n' Ghosts).

The Spectrum version by Elite was quite decent. In my opinion it could have been better: half of the levels were missing and some of the present ones were quite different from the original ones, but it was still playable and fun. So not a bad version after all.

However I always thought that Ghouls 'n' Ghosts was really good on the Spectrum, one of the best adaptations of an arcade game for this computer in my opinion. They took an action game from 1989 and adapted it in a way that actually made sense for a 1982 computer, removing all the unnecessary elements while keeping it quite faithful to the original game and, most importantly, very fast and playable.

Many Spectrum adaptations of late 80s arcade games tried to be too close to the originals: too many colours, too big graphics, too cluttered backgronds, and they were often slow and not very playable. Ghouls 'n' Ghosts did it right.
---
That's how the Twitter version of the poll ended: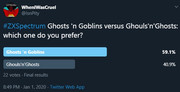 59.1% for
Ghosts 'n Goblins
(and it's missing my vote)
---