Gah, I had one job..!

Cheers
@Mousey
, yep, I forgot I'd hit the >1k mark with Nohzdyve..
---
Rick Dangerous
Posts: 2794
Joined: Tue Nov 14, 2017 6:55 am
Location: Málaga, Spain
---
Yep I won't get round to topping mine, so here we go:
Code: Select all
Bomb Jack 377340
Penetrator 9290
Nohzdyve 2860
Bomb Jack was pretty new to me. I have played it before, and wasn't that impressed by the graphics and sound. I didn't realise it was the quintessential hi-score game, which would have made a difference. Ignoring the ropey keys, it plays really well. I do think the game could be done with more polish while retaining the gameplay (calling
@Adrian_Singh
!).
I'm so impressed by the scores the BJ elite have been coming up with

I have completed Penetrator in the past, but I just didn't give it a proper chance this time. This time I didn't get past the green level.
Nohzdyve. Love it. I'm surprised it's not easier to totally suss this game out, as the teeth appear in the same place every time, just with different angles and speed. In theory, it
should
just be a question of controlling the inertia and deciding whether to go left or right, but in practise...
Thanks for organising these
@akeley
. I enjoyed it, especially as I have been sinking into a bit of a rut regarding games. Looking forward to the next one.
And please can we never speak so freely and frequently about our "BJ strategy" again...
---
Bomb Jack - 174,100
Penetrator - 8,040
Nohzdyve - 640
It's rather embarassing, but it seems the host will take the coveted bottom spot

I've been fairly busy recently and left it all too late, and had to do a last-gasp gaming round just now (am away tomorrow). Unsurprisingly the results are rather poor. Actually, it's just an excuse - I don't think I can do any better in P & N. But I had higher aspirations for BJ. As it is, I didn't even manage to beat my original 185K score and since I did not take a scr$ then, will have to settle for the 174K *facepalm.jpg*.
Oh well...maybe can tweak it a bit in the Redemption Round...(nah, it is what it is I guess)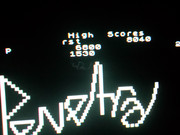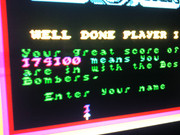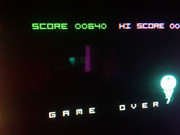 ---
Manic Miner
Posts: 843
Joined: Wed Nov 15, 2017 11:10 am
Location: Messina, Italy
Contact:
I think I did enough for this first round too. Here are my scores:
Bomb Jack
1,694,590 (no variation)
Penetrator
44,010 (new)
Nozhdyve
2,930 (new)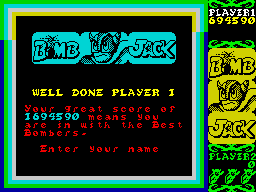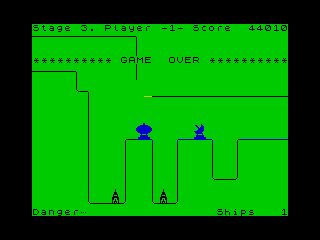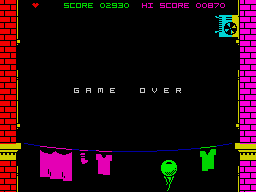 What can I say about these first three titles?
Bomb Jack
was and still is an old favorite of mine. The old tactics helped me a lot, although I think I would hardly be able to do better in just a couple of weeks (the Speccy Tour lasted 10 weeks).
Penetrator
was pretty much a discovery to me. I cannot say I like it due to its quirks like the absurd forward/fire key combination, the uncomfortable layout - which I was only able to overcome through emulation once Rorthron wrote about the Kempston-compatible version - and the fact that you can die by touching your bombs (!). And did I mention those #&%*! alien heads? I am aware I cannot do better than Morkin's excellent score, so here it is.
The less said about
Nozhdyve
, the better. I literally had to force myself to play it and that score costed me a lot of sweat and hallucinations, just like a bad trip

---
Dizzy
Posts: 97
Joined: Wed Jul 01, 2020 2:33 pm
Bomb Jack - 479650
Penetrator - 12170
Nohzdyve - 490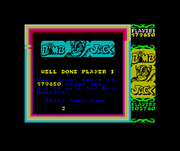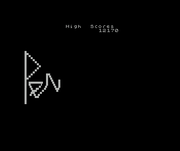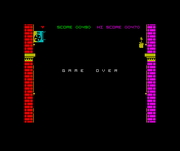 I felt with another week of play i would have hit the million on Bomb Jack, i was starting to see the patterns, but happy where i'm at. I thought it played really well, a great arcade conversion.
I thought Penetrator was going to be bad, but the more i played the more i liked how it played.
I think Nohzdyve is a good game, but i just don't like that hypnotised state i have to get into, so i didn't play it much.
Looking forward to the next set of games.

---
I'm still trying to crack 300K with Bomb Jack. I clearly need more practice

---
Alessandro

wrote:

↑

Sat Aug 01, 2020 9:56 pm

Nozhdyve

2,930 (new)
Damn you Grussuuuuuu!
(
Shakes fist
)
---
Manic Miner
Posts: 843
Joined: Wed Nov 15, 2017 11:10 am
Location: Messina, Italy
Contact:
What about the leaderboard? Will you use the F1-style
point system
as in ST 2008 and 2009 perhaps?
---
Manic Miner
Posts: 843
Joined: Wed Nov 15, 2017 11:10 am
Location: Messina, Italy
Contact:
I compiled the standings for the first round, I hope there are no mistakes. Probably a few of these scores need to be confirmed through screenshots.

Bomb Jack
1) Alessandro 1,694,590
2) Mousey 1,423,260
3) Freespirit 479,650
4) R-Tape 377,340
5) smurphboy 258,900
6) RuySan 236,060
7) clebin 232,830
8) Green Card 230,790
9) akeley 174,100
10) Morkin 162,570
11) Juan F. Ramirez 85,130
12) Pegaz 57,570

Penetrator
1) Morkin 87,290
2) Alessandro 44,010
3) Mousey 37,070
4) clebin 31,870
5) Juan F. Ramirez 29,940
6) Freespirit 12,170
7) smurphboy 11,210
8) Pegaz 10,600
9) R-Tape 9,290
10) akeley 8,040
11) Green Card 4,760

Nozhdyve
1) Alessandro 2,930
2) R-Tape 2,860
3) Mousey 1,250
4) smurphboy 1,220
5) Morkin 1,160
6) clebin 940
7) akeley 640
8) Juan F. Ramirez 320
Last edited by
Alessandro
on Sun Aug 02, 2020 11:53 pm, edited 1 time in total.
---