I forced myself to give it another go...

Kosmic "Effing" Kanga: 1,290 (new)

#jesuiskanga
---
Rick Dangerous
Posts: 2950
Joined: Tue Nov 14, 2017 6:55 am
Location: Málaga, Spain
New score:
Kosmic Kanga:
1,401
Pinball
7,140
(no change)
---
Microbot
Posts: 157
Joined: Wed Oct 23, 2019 2:19 pm
That's all very well in the horizontal levels, but it's a real shitshow on the vertical ones.
---
Rev_Stuart_Campbell

wrote:

↑

Tue Sep 15, 2020 7:41 pm

That's all very well in the horizontal levels, but it's a real shitshow on the vertical ones.
I reckon you could stay alive for a very long time doing that. I've heard that if you keep going long enough the bouncing ball eventually deflates, but that might be* an urban myth like the trailer in Lunar Jetman.
*definitely is
---
I didn't vote for it, but it seems that I've also succumbed to whatever cosmic mind control is making everyone think that Kosmic Kanga is not a pile of crap. Only
@Morkin
can snap us out of it.
Scores so far:
Pinball
- 8090
Kosmic Kanga
- 1455
In fact, if push came to shove, I'd say that Kosmic Kanga is the best game I've ever played.
Happy day.
---
Kosmic Kanga - 5209
Pinball - 7815
So I took a break from the mighty Kanga to play this here Pinball game. And I have to ask,
@Morkin
, is this some kind of elaborate performance art? What clairvoyance do you have that allowed you to take revenge in this way? Somehow choosing a game that I would dislike so intensely, months before Kosmic Kanga was even picked and then using some kind of psychic control to influence the RNG into selecting it this week.
Do you use the same technique to stop the ball sailing between the two paddles or down the side-alley? Because as far as I can tell, without a nudge option, even Uri Geller would have hard time avoiding 50% of the balls lost in this game.
My high score is from my very first attempt. At that point, I thought Pinball was quite entertaining, but 20,000,000 attempts later I find myself wanting to buy a copy off eBay just to smash it into tiny pieces. On the times when I actually have a hope in hell of stopping the ball going out, I have less and less patience and concentration span to react in time. Thus, my scores are getting lower and lower each time I play, 7000, 5000, 3000... This post might look like petty tit-for-tat, but FFS I hate this game!

EDIT: funny how R-Tape's post also mentions cosmic mind control. Is there a full moon? I think I can see a moonbase.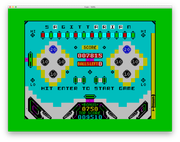 ---
Rev_Stuart_Campbell

wrote:

↑

Tue Sep 15, 2020 7:41 pm

That's all very well in the horizontal levels, but it's a real shitshow on the vertical ones.
I agree. That vertical 3rd stage gets me every time. I'm better off spending all my time in stage 1 and 2 to rack up as much points as possible.
Called in sick today so I had some gaming time. Here are my updated scores:
Kosmic Kanga: 2,173
Pinball: 12,470
Pinball is all about getting that bonus number up and then hoping that your ball travels through the purple highlights so that the bonus adds to your score. Somehow the bonus resets if it gets to 1000 but not sure what triggers it.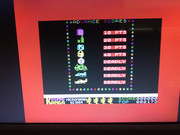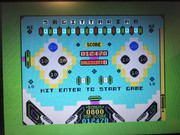 ---
Rick Dangerous
Posts: 2950
Joined: Tue Nov 14, 2017 6:55 am
Location: Málaga, Spain
Yeah, Kosmic Kanga is a devil invention. The more you play it, the more you feel addicted to it. Abducted, I'd say.

I started to feel it last game. Let's hope this challenge ends soon.

And no, I won't change my avatar:

Run, and you'll live... at least a while. And dying in your beds, many years from now, would you be willin' to trade ALL the days, from this day to that, for one chance, just one chance, to come back here and tell our enemies that they may take our lives, but they'll never take... OUR AVATAR!

I'll pray for those who couldn't avoid it.
---
This week definitely has a Stockholm syndrome vibe to it.
I picked Pinball not because I rate it insanely highly or can do well at it, just because I remember it being a playable pinball game from yesteryear.
My experience is the same as
@clebin
's, in that my first try yielded far and away my best score, and I can't get close to it now. I think there is a smidgen of skill involved in that you can 'hold' the ball against your paddle
(er... fnar?)
but the movement seems quite random and sometimes you just can't avoid those side channels.
I think after having a go at the bonus game when it's announced
<cough, cough>
, I'm going to submit my scores and escape this foul place. The sun is shining. There is a world out there.
---
CHEESING ATTEMPT DETECTED! Yes, folks, the point-based loitering is a no-no. Especially that you'd have to die on purpose to do that, since the game is always pushing you forward.
So, just channel your inner marsupial, embrace the spirit of the "mighty Kanga" and conquer that pesky 3rd stage

(avatar changing is optional)
---