You guys have missed the biggest disappointment.
Double Dragon. Woefully poor. Maybe I'm the only one saying it because Double Dragon is my all-time favourite arcade game, and the incarnation on the ZX Spectrum is dismal (although not as bad as the Atari 2600 or Sega Master System versions).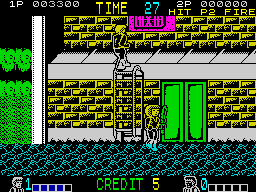 Pac Land is immensely shocking. We know through the not-too-shabby conversion of Wonderboy that you can take these cutesy horizontal scrollers to the Speccy, but the programmers went with the easy-to-develop-but-hell-to-play route of making it flip screen. Meaning that you sometimes get to the end of a screen and find you can't move unless you jump over the fire hydrant that's immediately at the start of the next screen. It's digital blasphemy, avoid like the plague.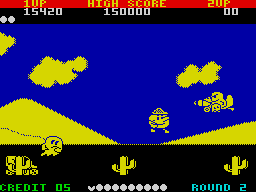 Absolutely disagree. I had Mario Bros as one of the many free games in Dixons's Spectrum +2 bundle. I think it was that or Donkey Kong which was the first game I ever loaded. The weird skiddy movement was annoying but I've subsequently played it on MAME (never saw it in a real arcade) and it feels very faithful.
Sure, it's not the highly prolific Super Mario Bros, which Ocean's Gary Bracey always wanted (and had to concede that Nintendo would not let such a highly valued title outside of its hardware), but the ZX Spectrum Mario Bros is a nice fun game that mirrors the 1983 original.