Hi!
I just bought my very first ZX Spectrum - never had one as a kid

It has had a hard past though, and probably was not worth what I paid for it.
Does anyone have a clue what happened here? Rev3 board - R55 and C46 seems to be burned both. I just assume this will happen again if I change these components, so maybe there is a different root cause?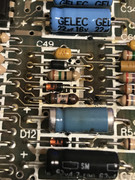 Not working at the moment of course...