I want show you something curious...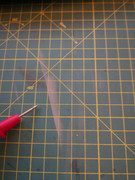 In this picture, you can see on my mat a white/beige shadow line pointed by my red probe. That is the result after cleaning the black dirt from the membrane. Seems like that IPA removed with the dirt also the conductive material of the tracks on the membrane

. So after the cleaning I've 0 keys working and I will buy one new the next weeks. I don't know if that is the result of corrosion or not, but on my mat now I have some some part of the membrane's tracks

.