---
Ok, on the next weeks i'll buy some new equipment to repair this damage. I will keep you informed on how it is proceeding. For now thanks to all!

---
Hi guys, a little update. With a software I designed the lower ram pcb scheme to be sure not to make mistakes later when I try to restore the tracks. Did I do everything right? Thanks in advance for every reply.
---
Hey guys, it's been a bit that I didn't update my post. Here some news: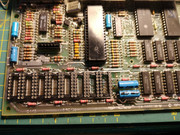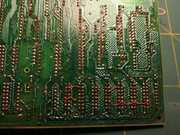 I put all the 7 sockets!!!!! And I'm very proud of me guys!!! Now I've a doubt, I dunno where to solder this pin: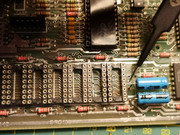 it's near the blu capacitor..
---
Microbot
Posts: 138
Joined: Wed Feb 20, 2019 8:38 pm
Location: Norf Lahndan Innit
Well while I'm sorry I can't help you much here, as the person that sent you here from another social media site (shhhh!), I'm impressed with the effort you are persisting with to get it fixed.
---
I think it should be connected to the pin 14 of IC7, but i'm waiting some confirm!

---
Dynamite Dan
Posts: 1190
Joined: Mon Nov 13, 2017 3:16 pm
I only have a picture of a populated Issue 6A board, but it's fairly high resolution. The trace form that via goes up and is likely connected to the via next to Pin 3 under the socket. It's best to use the schematic and a tester in continuity mode and determine the exact routing by process of elimination.
Still, I hope this picture will help you:
---
Dizzy
Posts: 87
Joined: Wed Apr 03, 2019 2:31 pm
Yes. I confirm that.
Also, clean your work with isopropyl alcohol and toothbrush before you test the unit.
---
yes, now next step will be buying rams and ZTXs
---
---