Hello all!
Yesterday i get a Sinclair PC200. I tried to boot to system disk but the floppy didn't work. To be more specific, when i switch on the computer i hear a very short sound from floppy drive but no farther. Also the led that floppy drive have never see it blink. Then, i got the usually message on the screen " insert system disk and press any key" When i do that, i saw the "drive A" & "drive B" blink but no sound from the floppy. I here the floppy ONLY when i power up the machine.
I open the floppy to clean it. I saw 2 capacitors that was in bad condition.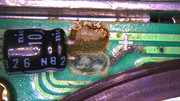 I change them both but nothing good happens. Same thing.
I dont know if someone have a pc200 and he can help. To be honest, i dont know how floppy must work in this machine, or if the floppy led should blink or not. But i want so much to fix this problem
Thank you