Hi everyone. I've recently got two Spectrums - they're my first ones, so I'm completely new to the topic. As the title says, they unfortunately don't work. Here are the symptoms:
1) Spectrum Plus
When I first plugged it in, it didn't react to anything. I checked the voltages in it and found that the voltage regulator was outputting 8,33V instead of 5. The ULA would also get very hot, so much so that I practically couldn't touch it. I replaced the regulator and also recapped the board. I've arrived at this: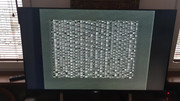 The pattern constantly changes, it almost seems as if it was rolling from top to bottom.
I've also noticed a few irregularities on the board itself. From my research it seems that someone tried doing the DC-DC conversion described in this Spectrum service manual I found (page 48) -
https://spectrumforeveryone.com/wp-cont ... Manual.pdf
. It also seems to me that this modification wasn't completed - here are the pictures of what was done. Before I figured out that this isn't how the standard board looks, I've replaced both capacitors used in the modification and also put C47 back onto the board.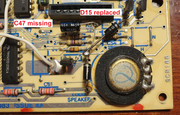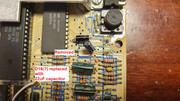 Ignore the rather poorly installed C50, it was a placeholder

The manual states that this modification doesn't change how the circuit works, so I guess I shouldn't worry about it?
2) classic Spectrum
The previous owner claimed to have used it about a year ago and that it was fine then. When I plug it in, the board itself makes a high-pitched, kind of gritty noise - I assume this to be a faulty coil, but I haven't replaced it. The voltages all seem to be present and fine, but the computer boots with graphical glitches. These vary a lot. Often it's just a black paper area, sometimes with some artefacts on it. Sometimes it displays a black screen and seems to be rebooting constantly - the noise it makes changes in pitch and the artefacts on screen change. A few times the speaker made a singular pop when this was going on. It has actually booted up correctly a few times, but the picture was oddly fuzzy and it also wasn't reacting to inputs, but that might've been the keyboard since both of them have ripped cables - I must get to fixing that. I recapped this board as well. Here are a few pictures I took: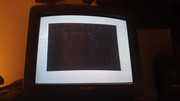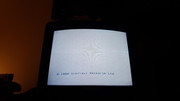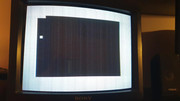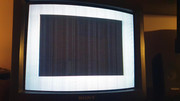 I've also recorded a video of what it does, which includes the most extraordinary glitch it produced (the first one in the video) -
The changes in the high-pitched noise are audible towards the end of the video, but they're very hard to make out sadly.
The board in this one also seems to have a modification on it, although I've no clue what it's supposed to do.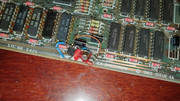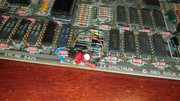 ICs 6 through 11 as well as the Z80 seem to have been replaced in the past, judging by the soldering.
I have also tried something rather risky - I swapped the ULAs between the two, but the behaviour didn't change. I hope that this means that both ULAs are fine...
From what I've read, this most likely is a memory issue. I'm kind of at my wit's end as to what to do now. How would I go about checking the memory?
All responses are greatly appreciated