Spectrum 128k garbled chars on screen
Posted: Sat Nov 30, 2019 9:59 pm
Trying to repair a Speccy 128k (Z70500 Issue 3)
First issue was a broken DC power jack. Replaced and it now powers on but I get garbled characters on booting up.
Starts up and I get the white border so after reading through various threads sounds like the Z80 and ULA is fine and problem might be ram.
I've checked 5V/12V/-12V. All present and stable on the scope.
Pressing reset 9/10 times doesnt change anything. One or twice its reset with a while border and completely black in the middle.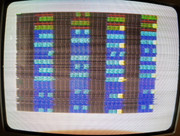 Found a post were you can disable the upper 32k by shorting a pin to 5V. That's for the 48/16k Spec. Is there a trick like this for the 128k?