Hi,
My Spectrum +2 (grey case) was working great with a DivMMC. Then recently it would take a couple powercycles for DivMMC to boot into ESXDos. Today I get nothing but a garbled pink screen when using it with the DivMMC.
When in this state the reset buttons on the +2 and DivMMC also don't work. When I remove the SD card the spectrum works as normal. I tried a different SD card but got the same result.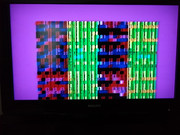 [BTW: The bottom of the screen is cut off because this is USA TV]
Any pointers on how to diagnose what has gone wrong?
Thanks