---
Rick Dangerous
Posts: 2089
Joined: Tue Nov 14, 2017 6:55 am
Location: Málaga, Spain
---
---
---
url=
https://imgflip.com/i/2nbsxi
]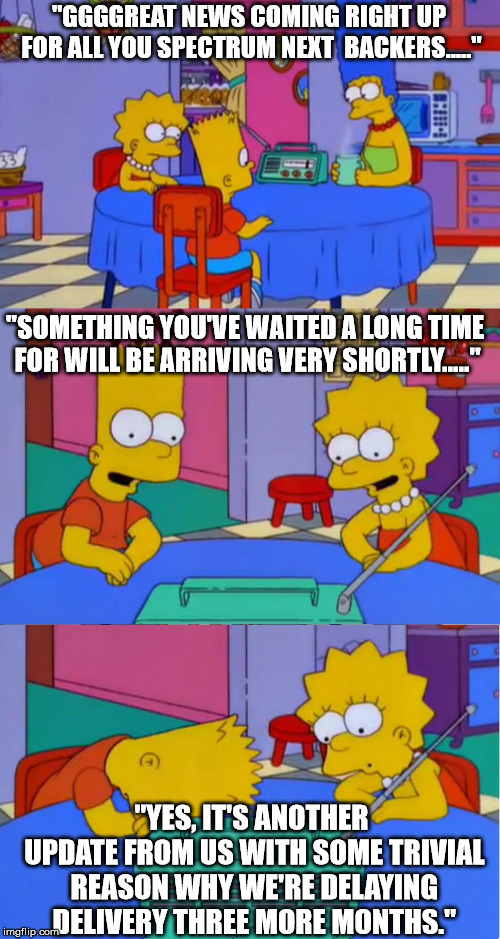 [/url]
via Imgflip Meme Generator
"He made eloquent speeches to an audience consisting of a few depressed daffodil roots, and sometimes the cat from next door."
---
Rick Dangerous
Posts: 2089
Joined: Tue Nov 14, 2017 6:55 am
Location: Málaga, Spain
---
Hehe. Looks like the Next's honeymoon period is over

---
---
There is a slow, growing, disquiet about this project which is not being helped by the ethos currently held by the people developing it that their end goal seems to be absolute perfection rather than actual useability. The latest delays are currently centred around the need to present the keys with a high gloss sheen ignoring the fact that 30 minutes after initial use they'll be covered in fingerprints and dust and look worse than if they were a standard matte.
It's also important to remember that the actual computer PCB side of things is done, tested, supplied and in use as the boards were shipped to people who backed the board-only option in December 2017. It has taken a year - and it is still ongoing - to produce a plastic case and keyboard to put the PCB in, and a final version of the manual is still not ready as they keep adding new "features" to the OS pretty much every month.
If the delays were due to serious reasons such as a factory burning down or legal shennanigans then that's one thing but the nature of the delays, announced regularly every month, has been petty to say the least. If you have the time then have a read of the last few updates over on the Kickstarter page but a quick roundup would be along the lines of: wrong shade of red for the plastic; wrong shade of red for the logo; wrong colour for the cardboard box the PSU comes in; wrong height of main logo; wrong type of case screws; wrong thickness of keys; wrong thickness of case; some parts of the case should be smooth not matte; some parts of the case should be matte not smooth. Again it is important to say that these amendments were not due to the manufacturing process, these were all part of the original design spec that was passed to the manufacturers to produce "as is". And some of the changes (delays) involved are hard to comprehend e.g. one small red plastic flash was a single Pantone Red shade incorrect so back it went.
Unfortunately there is still no ETA for the completed units, not even a rough guess, and reading the Kickstarter comments posted after each update is achingly familiar for those who followed the Vega+ saga. It's not that I think the finished units will never show up in some form or another, quite the contrary, but it's almost as if those involved just don't want to let go, that if it's not absolutely perfect then it will all have been in vain. This would be fine if they were spending their own money but it's not, it's a finite amount raised by people who are starting to wonder what all these changes and delays and remanufacturing and replacement costs are doing to the balance raised and would be more than happy to recieve a product deemed to be merely 'excellent' rather than 'sublimely utopian.'
So yes, for some the honeymoon period is definitely over.
"He made eloquent speeches to an audience consisting of a few depressed daffodil roots, and sometimes the cat from next door."
---
Rick Dangerous
Posts: 2089
Joined: Tue Nov 14, 2017 6:55 am
Location: Málaga, Spain
---