Hi folks,
here is my latest effort:
Ad Lunam,
a simulation/management game created with
ZX-Basic
inspired to the
Lift Off
board game and the
Buzz Aldrin's Race Into Space
PC-DOS title. Your aim is to reach the Moon with a manned spacecraft and safely return to Earth within 1976. Although it is
not
completed yet, I would like to distribute it as an evaluation version because today it is the 50th anniversary of the Apollo 11 Moon landing and this is my way to celebrate it

This is my first ever project made with ZX-Basic, and as such, I regard it as a sort of proof of concept. I would say the game is roughly 75% ready, almost all of the main characteristics are present. It still lacks planned features, for instance:
- Sound
- Graphics, apart from the two small US/Soviet flags
- Save/Load
- Unexpected events (good or bad) at the end of each turn
- The computer AI is still rudimentary and needs to be expanded
Also, bugs may be present. So beware!
Notwithstanding this, I designed a loading screen for it, based upon the famous Time magazine "Race to the Moon" 1968 cover.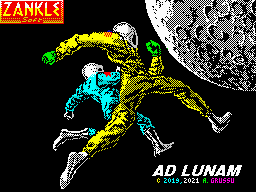 For the first time ever, I am also enclosing the sources. Please note that comments are in Italian; only captions have been translated in English. The documentation was (very quickly!) written directly in English instead. (Documentation and game in Italian will be distributed later; other languages will follow.)
Bug reporting, comments and suggestions are welcome; I'd be especially grateful if someone can find a way to optimize my listings and make them occupy less space after compiling, the game should run on a 48K Spectrum and RAM is running dangerously low...
Instructions on how to assemble the game from the sources are the README.TXT file included.
For the archive maintainers: maybe it is not needed to specify this, but I wish the game not to be included in the archive before it reaches at least version 1.0.
For subsequent versions, the downloading link remains the same. So here it is. Enjoy!
http://www.alessandrogrussu.it/zx/AdLunam.zip