(Following on from a discussion on Stardot and observations made by the excellent forum members there...) The earliest multi-format Level 9 adverts (and indeed the BBC one from around the same time) list the games as being available in both 16K and "32K" format...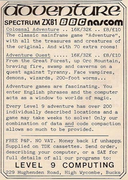 ...These 16K versions... including a potential Spectrum 16K one, don't appear to be listed in the ZXDB database or indeed archived online anywhere. Similarly, the ZX81 versions (presumably 16K only) don't appear to be listed or archived.
Does anyone have any knowledge of these? Similar adverts make appearances in various magazines, until Dungeon Adventure was released and the games started being listed as requiring "32K".
As an aside, the date of publication for Colossal Adventure, Adventure Quest and Dungeon Adventure in ZXDB is currently 1983... The advert above dates from September 1982, so that 1983 date is incorrect. Dungeon Adventure is also advertised in some January 1983 magazine issues, so it seems like it just scraped a 1982 release date too.