Moderator: druellan
Yes, that the problem. The frontend code is OK, it's just expecting a SCR.
---
Manic Miner
Posts: 931
Joined: Wed Nov 15, 2017 2:48 pm
R-Tape

wrote:

↑

Sun Dec 23, 2018 2:14 pm

Hmm. It shows up correctly on the main page for FilloMania. @4thRock, any idea?
Dave, you registered this file in ZXDB as "screen dump" although it's a PNG image. That's the reason SC isn't rendering it properly!

It will be fixed in next ZXDB update. Although it would be better to replace it with a proper screen dump.
---
Ah sorry. I even made a mental note of it, but must have forgotten.

I chose g0blinish's png in this case because it looked much better than the .scr I made.
---
Missing game...
Doctor Goo and the Wobegon Affair
1988
William Young
Spectrum Adventure Exchange Club
Created using the Quill
Parts one and two were published on Issue 22 and 23 of the SAEC's Spectrum Adventurer tapezine. The remaining parts don't appear to have been completed.
"Dr Goo has been summoned by an intergalactic distress signal to the planet Wobegon. Can you help the Wobies to rid their planet of the awful Thugs?"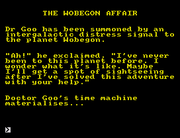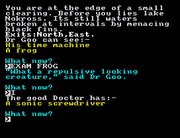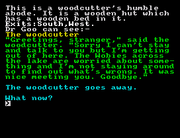 ---
---
---
Thanks
@Rorthron
I will need to speak with
@Einar Saukas
on this one as we will need to add White Dwarf as a new magazine, so I don't know if that will add complexity.
I'm also working with Einar on getting Personal Computer News sorted.if anyone has high-quality JPEG scans of some of the issues that weren't in the WoS archive that would be useful. There are copies on archive.org and RetroPDFs, but I will need to look at the quality
---
Aye, can I just add to Peter's comment that things are in flux at the moment. I've only just now started to look at the new ZX-Ed system, and it's really not clear (to me, yet) how I'm going to fit certain corrections in, or just report them on.
We'll try and make the next update as complete as possible, but the "as possible" bit might have to be emphasised

---
---
Polearn
https://spectrumcomputing.co.uk/index.p ... 6&id=10059
is listed as being Quilled.
It is a 128K game, so can't be Quilled.
An analysis of the database shows it was produced with the Professional Adventure Writer. (The mentions in Crash support this)
The copyright date on the loading screen is 1989
---