Hi everyone!
I am struggling to get my little BASIC 10-liner game to detect key-presses in a more responsive way:
https://github.com/Fabrizio-Caruso/Sinc ... ectrum.bas
In my code I am doing something like:
LET s=CODE INKEY$
LET lr = (s=108)-(s=106): LET ud = (s=107)-(s=105)
LETpx = px+lr: LET py = py+ud
but for some reason, INKEY sometimes skips some key-presses.
Is there a better way to read the keyboard status in BASIC?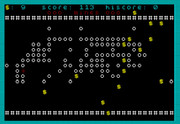 Fabrizio