Hi all,
I discovered this forum few days ago and after some exchanges with Arkannoyed on his fantastic 3D Chess, he encouraged me to open a thread on this development I've been working on for some time.
You can play online (3 different versions with different features), see some insights on the development and have the full code in
http://chesskelet.x10host.com/
I´ve just released a new version today which leaves the project almost finished: v0.804, taking
363 Bytes
in its simplest version.
Release notes.
- Coding optimizations everywhere. Kudos, Mr.Blinky!
- Full version: basic castling implemented.
- You may be surprised; ChesSkelet plays something that looks like an opening.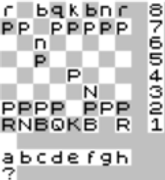 If I detect interest I could dissect the program in this thread. Maybe someone could propose additional improvements. Let me know your thoughts on this. I've already had some nice support from other coders.
Alex