ChesSkelet code - Chapter 1 - General program structure
Let's how far I can get in dissection this code for you, guys. First of all, sorry for the typos and mistakes. My English is not bad, but not yet native. 
I´m giving some general details in
http://chesskelet.x10host.com/development.html
, for a general introduction to the program. However, I´m not totally satisfied with the information in it.
I guess the first things before digging into the code details is to explain why the program is built as it is. I need to say that it is the product of many iterations changes and rewriting.
Program structure: in the initial implementation there were many repeated sections and routines that were used several times, with slight differences for white (human) and black (computer) pieces. As I could optimize the structure, I came to the conclusion that none of the elements needed to be called more than once and I could reuse most of the code for both sides, except for the code generating the legal mode list, which is the most complex part and it's used in several places (there will be a dedicated chapter on that one, called 'genlis').
This structure has helped me in making a very simple code, but as we´ll see it introduced some restrictions that are difficult to resolve without important changes.
Here is a simplified code flow: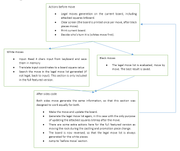 Also, as part of the learning process, I took some technical decisions on how the code should be written:
• Board implementation: there are tons of literature on the topic over the internet, but this article (
https://www.chessprogramming.org/Board_Representation
) is particularly good. Most works out there are focused on execution speed, and not so much on simplicity and memory requirements. After some consideration, I discarded bitmaps, as the memory requirements were much higher, and ended up writing the initial coding using an 8x8 board. Soon I found the famous out of board detection problem and the 0x88 solution (
https://www.chessprogramming.org/0x88
). I went through several board variants where the 0x88 out of board detection worked (12x10, 12x8) and ended up using a 16x8 board, where half of the squares are never addressed or used, but the code to run through the board squares was much simpler. It's a pity I did not fully understand all these articles before I went through the learning process the hard way. Only later I found that all my findings had been found long ago by someone else.
• Micro-paging: one of my main finds during this development. I have placed (almost) every data structure in different 256-byte pages, mainly at the beginning of each page. This allows me to hop from one data area to another just by modifying H register, since HL is used for data addressing. Furthermore, if the program follows a linear execution sequence, data pages can be arranged in a way that just by increasing/decreasing H register by one (INC H, DEC H, only 1 byte!), we can jump to the required data page at each point.
• Data scattering: in regular programming, data is placed in memory without taking into much consideration whether access to these data is simple or not. In my case, I have placed data structures in memory areas where addressing them is simple. In other words, data location is adapted to the code and not the opposite. Micro-paging is part of that, but there are other tricks.
• Long instructions: I avoided using long instructions as much as possible (Z80 has 1-byte to 4-byte long instructions). I totally avoid using 4-byte instructions, and reduce 3-byte instructions to the minimum. This approach has several aspects:
o Avoid IX and IY registers extended instructions (2 to 4 bytes long). It is hard sometimes to avoid it as in some cases all registers are busy. On the other hand, using the stack to save and release busy registers temporarily and recover them afterwards is typically lighter.
o Avoid temporary variables (memory positions). Only registers are used in this program. For instance, R/W operations of memory positions require at least 5 bytes (LD HL,XX; LD A,(HL), LD (HL),A), where R/W of a register takes only 2 bytes.
o Avoid procedure calls, as CALL + RET set requires 4 bytes.
o Avoid absolute jumps (JP, 3 bytes) are avoided as much as possible. As the code is so small relative jumps (JR, 2 bytes) are possible in almost all cases.
o Coding optimization: some operations have an alternative way to be implemented with a shorter instruction. For instance, the most famous one: if you need to set A=0, the standard instruction would be LD A, 0 (2 bytes). There is another method you can use in most situations, XOR A (1 byte). There are many other optimization tricks, most of them covered in these two sites:
Z80 heaven - Optimization (
http://z80-heaven.wikidot.com/optimization
)
brandonw.net - Z80 Optimization (
http://wikiti.brandonw.net/index.php?ti ... timization
)
Hope this is not too heavy for starters. So far I did not include a single line of code, which is good, I guess.