Hi, I'm the author of Adventuron Classroom and I am making this post (my first post) to let you know that Adventuron can now be used to author ZX Spectrum text adventure games ( via a source code translator ).
PROOFS OF CONCEPT
There have been two "proof of concept" ports to come out of this development recently:
1 - Escape From Dinosaur Island DX -
https://adventuron.itch.io/dinoisland
Escape from Dinosaur Island DX is set on an island, where your balloon has crash landed, and there are some dinosaurs in various places. There is also soup. It's a beginner level text adventure, not too small, not too large.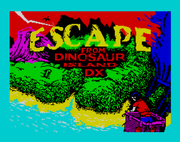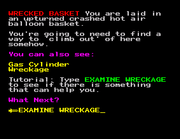 2 - The Cave of Magic -
https://adventuron.itch.io/cave
The cave of magic is a single puzzle text adventure game which is there to serve as a basic tutorial on how to build text adventure games with Adventuron.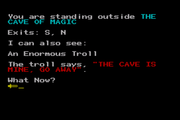 HOW TO MAKE AN ADVENTURE WITH ADVENTURON - TUTORIAL
A tutorial on how the cave of magic was written is available here :
https://medium.com/@model_train/video-t ... a194aeab44
POSITIVES
* Well, you can write Adventuron games in a browser window, and it has a very rapid development procedure.
* It is also unencumbered by 8-bit memory limitations, so if you are writing your magnum opus, and suddenly run out of kilobytes on the PAW port, then you can continue onward with your game, and possibly drop your 8-bit plans (not ideal).
* Adventuron has a few features that PAW doesn't have an in converting the source code, it essentially implements code patterns in PAW source code to emulate the adventuron features.
* Adventuron has many documentation resources, and is a very fast system for building adventure games. John Wilson regularly writes (albeit mini) games in a morning. It's possible to put together quite well designed games in a small time-frame. Not every adventure has to be mammoth, and given modern attention spans, more smaller adventures can be fun.
*
Adventuron 2 PAW
is very well documented (click the documentation button at the bottom to read the PDF documentation.
* Adventuron 2 DAAD is coming soon (target lesser 8-bit and 16-bit micros with the same sourcecode).
NEGATIVES
* This tool can generally be used for a QUILL++ set of features. Even though Adventuron has many powerful features, obviously not every feature can map, and even features that approximately map to PAW might not map well enough to be compatible. For that reason, where there are incompatible features, the feature is simply not allowed.
* It's not (yet) a turnkey solution. You have to copy the code out of the adventuron window, into another window (adventuron 2 paw), then copy the result into a textfile on the local filesystem, then run the inpaws compiler, then take that tapfile and load it into PAW.
* If you are going to be distributing games that use the PAW interpreter, a PAW license is still required. This is documented at the bottom of the page
here
.
* Adventuron's graphics are not passed through. It certainly is something I'll be looking at, with externs and the like, but for now, it's text only. It's possible to use the PAW editor and overlay graphics atop of the exported source, but it's not the cleanest solution, so you are better waiting off for a better solution (which will come).
* There is a danger that if a lot of lazy text adventures appear that these adventures will start to look and feel a bit samey. I think a well written adventure, that has it's own colour scheme, own font, and own personality can feel distinct but perhaps the default settings will be used too much?
MORE ABOUT ADVENTURON CLASSROOM
Adventuron Classroom is targeted at education, and its integrated tutorial, which may be especially interesting to Speccy lovers, is to remake
Excalibur: Sword of Kings
, from beginning to end.
Games made with Adventuron can be packaged as standalone HTML with the Adventuron interpreter, but now, with the "Adventuron 2 PAW" source code converter, Adventuron games can also be targeted at the Spectrum by leveraging the PAW interpreter.
If you have an 8+ year old child why not partner up and make a text adventure game together? Or simply go through the tutorial together. The tutorial also includes an introductory adventure game to play through in order to learn the basic concepts of text adventure gaming.
Anyway, here is a little screenshot of the code editor, because animated gifs don't seem to work in the forum.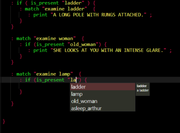 More links:
More
information
about Adventuron Classroom (including sample games) + links to documentation.
Adventuron Classroom's
Editor
(which requires a NON MOBILE BROWSER).