Not actually any loading screen, just a picturesque picture by Andy:
https://zxart.ee/eng/authors/a/andy-gre ... nquillity/
Now give me a game with such landscapes

---
As an avid fisherman this pleases me immensely. The different kinds of clouds, lush trees, birds in the distance, the reflections in the water, the serenity. Simply beautiful. Seems to dance around the attribute limitations effortlessly as well. My favourite of Andy's so far.
---
Manic Miner
Posts: 589
Joined: Mon Nov 13, 2017 3:16 pm
---
Manic Miner
Posts: 887
Joined: Tue Nov 14, 2017 6:55 am
Location: Málaga, Spain
Beautiful.
It reminds me of the stunning landscape in Jack Charlton's Match Fishing: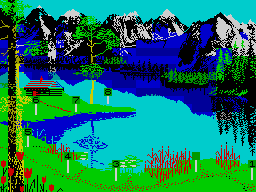 ---
Berk
Posts: 30
Joined: Sun Nov 19, 2017 11:45 pm
Thank you once again for all your feedback and kind comments!

Hear my honesty when I say my latest screen wasn't even planned! It came about after messing about drawing a mountain range and it carried on from there. What happens after digressing from doing screens for upcoming gomebrew Spectrum games lol. The response to this one (especially on various Facebook groups) has been absolutely amazing and there has since been numerous requests for more of a similar vein. I might do one for each season seeing as I did the 'Wintry Lodge' screen last year. All I need to do is digress, again.... lol

---
Another pretty landscape from Andy:
Morning expedition:
https://zxart.ee/eng/authors/a/andy-gre ... xpedition/
---