Hi there,
a Spectrum-esque environment in Python/Pygame: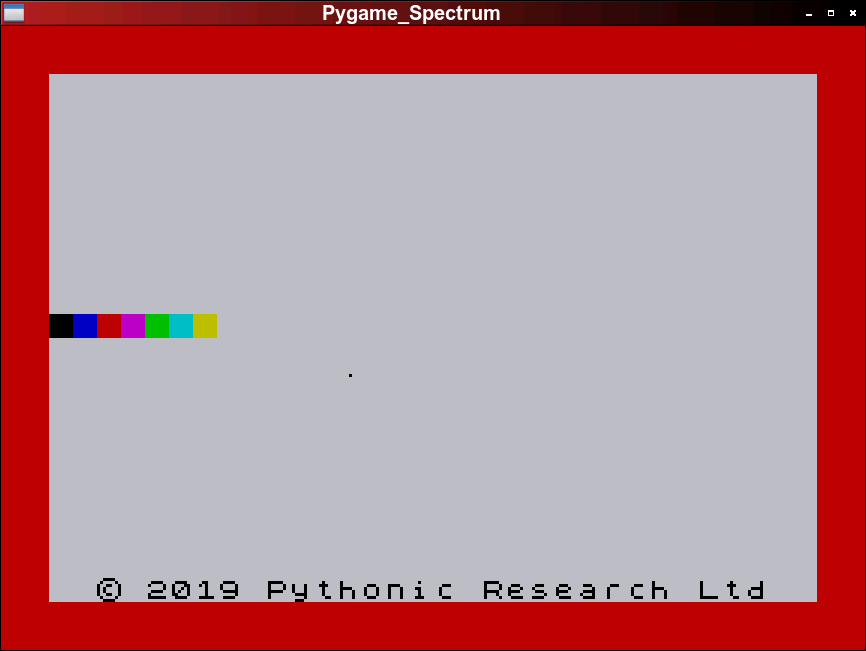 Although it's amazing to program the real (or emulated) Spectrum in C, for me it's also rather exhausting.
On the other hand, I know Python quite well, and Pygame would be ok.
I've never seen a really good game in Pygame, though. Maybe it needs some limitations to give it a frame.
dfzx pointed out, that in games programming on the Spectrum, you mostly poke everything directly into the screen buffer. I though, maybe I could do that in Pygame and make it look (and feel) really Spectrum-like.
Well, that's how far I've come (in a few days yet):
- Can set border and paper,
- can plot something (256x176),
- can set coloured paper-spots (32x22),
- can write like "PRINT AT".
I'm not sure, how fast this is (fast enough for "Manic Miner"?). But hey, if a 3.5 Mhz Z80 can beat your libraries on today's Ghz-PC, the libraries wouldn't be worth it anyway.
What do you think?
By the way: Can I get in trouble, when I use the Spectrum's charset (stripped from its ROM), its look-and-feel or the words "Spectrum" and "ZX" in my code?