I saw video from the C64 version of Blockheads back on the rllmuk forum in February / March and thought the wall jumping mechanic was a cool idea. I also remembered an old game called
Bumpy
, a platform puzzler that I also used to like and wondered what would happen if the two got mixed up a bit - Bumpy + Friction =
Frumpy
. The game is based around a hacked up version of the engine I used for
Thoroughly Modern Willy
(TMW) with added wall jumping. It incorporates some familiar elements from Miner Willy - disintegrating platforms, deadly blocks, conveyor belts, exit blocks, and those room changing switches I added in TMW. It also adds doors, water, fire and quicksand.
Default controls are Q, left, W, right and SPACE to jump. Joysticks and redefinable controls are supported. Pressing BREAK pops up a menu which lets you restart the level or quit the game. If you press jump and a direction and hit a wall during the jump, pressing jump and the opposite direction will jump you up and away from the wall. You can also wall jump in the opposite direction if you're falling against a wall. Pink spikes and fires are deadly. You can die if you fall too far. White vertical and horizontal chain link doors can only be opened with a key. Yellow switches can change or toggle the layout of the room - not always to your advantage!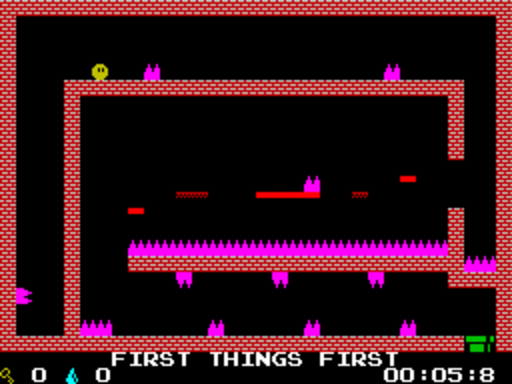 Get to the green pipe in the fastest time. Each room has a 'World Record' time. There's currently 5 rooms.
Download
here
.