Not my work but I think it's the best place to show it here.
So some interesting project appeared last year on Facebook. Unfortunately the author, using a nickname Dworkin, announced that he will be no longer working on it

Which is a shame as it had a big chance to become a megagame.
See Zx Dungeon, a 3D RPG maze game, clearly inspired by the famous classic Eye of the Beholder:
We have some similar games on Spectrum like Bard's Tale or Bloodwych but this is certainly looking better then them.
Bloodwych for comparison: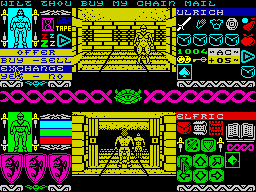 And here's the demo. Press Enter to run the game. Interface text is a mix of English and Czech (I believe) but there are controls shown at start
(Q W E A S D for walking ) so you should make it.
https://www.sendspace.com/file/x9206a