@MrPixel
, please find enclosed an example from the ZX Spectrum+ User Guide. Note the use of the RND command to add some interest, the BEEP command to add a bit of sound, and some For / Next Loops. Flash adds a bit of fun too.
Also note the inclusion of the code within the CODE Tags, rather than a screenshot of your listing.
Code: Select all
  10 BORDER 0: PAPER 0: CLS
  20 CIRCLE INK RND*6; FLASH RND;120+RND*8,80+RND*6,RND*80
  30 BEEP 0.1,RND*60
  40 IF RND>0.9 THEN GO TO 60
  50 GO TO 20
  60 FOR y=-2 TO 4
  70 FOR x=0 TO 6
  80 BORDER x
  90 BEEP .05,x*y
 100 NEXT x
 110 NEXT y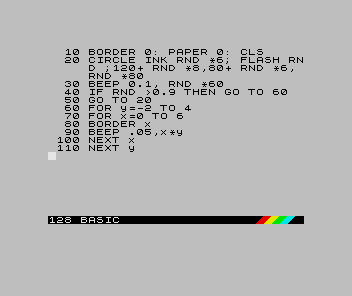 I can't remember who told me, but thanks to the user who showed me how to create animated GIFs with Spin.