Dynamite Dan
Posts: 1724
Joined: Mon Nov 13, 2017 3:16 pm
---
Just ran the full test. It's a NMOS Z80 made by SGS.
---
The answer is in that long but fascinating
2012 WoS thread
.
Z80ccf runs CCF after each opcode. If an instruction modifies the flags, the immediately following CCF (or SCF) moves bits 5+3 from A to F, whereas if an instruction doesn't modify the flags, the SCF/CCF ORs bits 5+3 from A to F.
If SCF/CCF isn't emulated the expected way, any opcode modifying flags may fail Z80ccf. I guess it's more of a sanity crosscheck than anything else.
---
ZX-Uno running Kyp's core. All tests OK but SCF y CCF. SCF+CCF and CCF+SCF seems to work fine.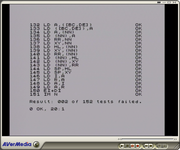 Result: 002 of 152 tests failed.
Pretty nice!
---
FUSE 1.5.6 changelog says:
Z80 flags register is now correct after SCF and CCF (Sergio Baldoví).
So, I decided to rerun the tests, and: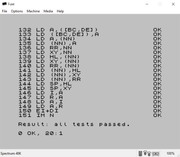 Result: all tests passed
---
---
Manic Miner
Posts: 296
Joined: Wed Dec 11, 2019 6:47 am
could someone re-run these tests on the current Next?
i'm interested if the results improved since the last time

to be specific - z80full, z80ccf and z80memptr
---
---
It surprised me, that the SpecIde emulator was not mentioned here yet, because it passed all the tests I tried.
https://github.com/MartianGirl/SpecIde
I think this is certainly among the top five Spectrum emulators, in terms of precision.
For now it lacks some decent GUI, especially any file browser but nonetheless, this is an excellent emulator.
Congratulations to Marta, impressive work for now.
Here are the results for z80 tests:
Last edited by
Pegaz
on Wed Apr 29, 2020 9:27 pm, edited 1 time in total.
---
Thanks for adding the link
@Pegaz
I deleted my post asking for the link, and your post saying you had added it. Thank you.
Its probably because nobody else had heard of it. Thanks for mentioning it. They also have a version build into Visual Studio which looks neat!
Has anyone tried it?
https://dotneteer.github.io/spectnetide/
---