Being a 128k owner back in the day, I was always happier when games made use of the AY chip. Obviously games made before the 128k was produced didn't make use of the extra memory and sound chip and to be honest, a lot of games play fine just making use of the beeper but some games that play with just the odd beeper effect or in silence really feel strange, especially if you have played them on other formats that do have music.
Anyway, case number 1.
Super Wonder Boy In Monster Land: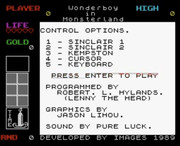 As the title screen says, sound by pure luck. David Whittaker provided the music for the CPC version (admittedly it was only for the title screen) so I'm not sure what happened with the Spectrum version. I guess Activision didn't want to pay for extra costs of 128k content or it just wasn't possible to include some music. I just feel that the game needed a tune to be playing whilst you play this great little RPG style platformer.
So what games do you think would benefit from having some in game music?