Ah, I think I've found the solution.
I converted your turbo .TZX file with Tape2Wav 1.8 (I use this prgram for all .TAP to .WAV conversions and play the .WAV file in media player to the Spectrum) and found that it creates a .WAV file that is louder than Tapir.
I didn't need to add any extras to the header or gaps between the code blocks.
As per the screenshot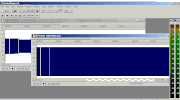 I also boosted your original Tapir .WAV file in Soundforge to match the Tape2Wav volume and that worked too.
It looks as if Tapir is outputting a .WAV file a lot quieter than it should be.
Hopefully solved.