Hi guys, again - thanks for all the help.
So I replaced IC11 and it's done something!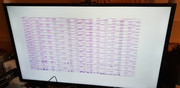 The vertical red lines against black are gone and instead we have this pink striping thing! You can see the copyright message, though and it responds to key presses, though it's not clear.
Here is a video of it in action and me pressing the reset button:
We're getting there! Does this make a diagnosis any easier? Thanks again guys, loving this repair process!