Yeah, this is what Ocean Software was originally called and it's fairly obvious why this name couldn't really survive in a market where there just happened to be the tiny matter of OTHER COMPUTERS NOT CALLED THE SPECTRUM.
What we have, are 5 games (obviously I discounted the MIA titles), and yeah, they're all arcade knock-offs.
Caterpilla = Centipede
Frenzy = Berzerk
Monster Muncher = Pac Man
Road Frog = Frogger
Rocket Command = Defender
It's also a rare example of a software label's entire game library being completely compatible for a 16K Spectrum.
Hell, just about every software label was doing this back in the day, you couldn't move for Space Invaders and Pac Man rip-offs littering the scene. Truly a wild west time, and eventually the scene went a bit more professional and started splashing out the money on official licenses. (But the habit persisted, as
Ocean's first game was a Donkey Kong rip-off
. And yeah, they'd absolve themselves of that particular example by actually making an
official Donkey Kong
- which was a lot better.)
Anyway, just five games, all of which are trying to be early 80s arcade experiences. I can't put it any simpler than that, get voting, see you in seven days time here for the results...
Caterpilla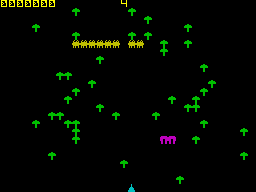 Frenzy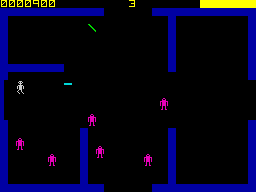 Monster Muncher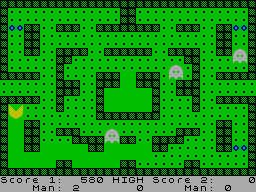 Road Frog
Rocket Command