It's a straight two-horse race here, as I only count original titles (not re-releases). The Mastervision label from Mastertronic put out 6 games for the ZX Spectrum, only 2 of them are original, and they are..
Se-Kaa Of Assiah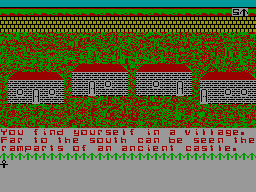 Sinbad And The Golden Ship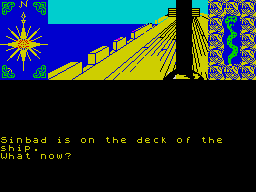 ...so, with just two to choose from, there's no opportunity for a top-three proportional vote in the comments.
If you're unfamiliar with this imprint, well, there's a clue in the screenshots that Mastervision was dedicated to the adventure/RPG side of things. It was set up very early in Mastertronic's life, probably acknowledging that adventures are a bit of an acquired taste when compared to typical action games. Oh, and that they started off with higher-than-budget prices, like £3.99.
Mastervision was never going to be as well stocked as the general Mastertronic label, especially as adventures don't quite hit the sales register in the way other games do. It was rather neglected over its lifetime, and eventually, adventures just popped up here and there on their other brands.
For completion's sake, the other four games - the re-releases - are listed below, but aren't up for a vote...
Black Crystal by Carnell Software
Journey's End by Games Workshop
Volcanic Dungeon by Carnell Software
Wrath Of Magra, The by Carnell Software
As you can see, Mastertronic made quite a lot of the assets of Carnell Software, who they acquired as part of the set up.
Well, there you go, 7 days to vote on this. I have to say, these are quite obscure titles, I don't think there'll be a deluge of votes, but do prove me wrong!