As I now have a lot of free time on my hands, I've been spending some of it playing around with the ZX-UNO I purchased a while back. I wondered whether it was possible to do a nicer file browser than the current NMI (F5) implementation. After a couple of days of hacking around, I've knocked up a prototype browser.
For comparison, here's the standard NMI browser: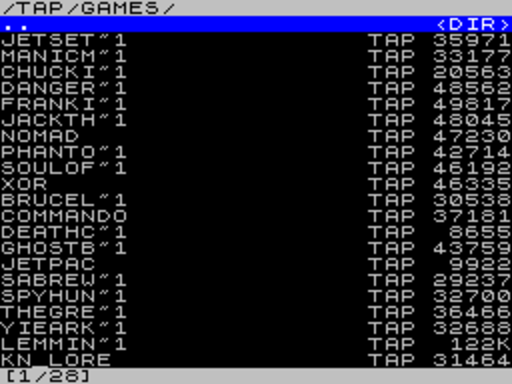 And here's mine: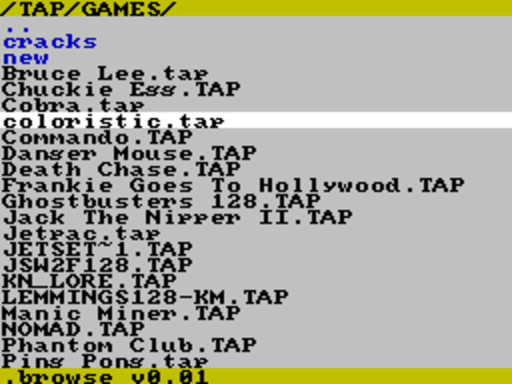 It supports long filenames by reading the disk directly. It also sorts the folders and files alphabetically.
The latest version can be downloaded from
here
.
To install, unzip and copy the BROWSE file into the root SYS folder (where all the other command files live) on your disk. You should then be able to enter:
.browse
from BASIC to launch the browser.
Keyboard commands:
Cursor up / down - move selection
Space / Enter - select a folder or launch a supported file
Delete / P - navigate to parent folder
Break / X - exit browser
Issues (I'm aware of):
Currently supports FAT16 disks only.
Currently only reads from esxdos device 0.
Limit of browsing 256 files in a folder.
Only launches .tap files (no .sna / .trd support yet).
Doesn't start browsing from the current directory - always starts from the root folder.
Unsupported characters (> ASCII 127) are displayed as '~'.
Filenames (> 32 characters) are not clipped.
I've tried this on a ZX-UNO with a FAT16 formatted 512mb SD card and developed the code with z88dk using an a HDF image of the SD card with SpecEmu. I'd be interested to hear if anyone else can get it working with their ZXUNO. It shouldn't damage your SD card (famous last words) as it's not writing to the disk.