Manic Miner
Posts: 844
Joined: Wed Nov 15, 2017 11:10 am
Location: Messina, Italy
Contact:
Happy birthday Uncle Clive!

---
Dizzy
Posts: 97
Joined: Wed Jul 01, 2020 2:33 pm
Happy Birthday Uncle Clive and thanks for introducing me to computers and giving me great childhood memories.

---
Happy birthday uncle Clive!!!!
---
If you get a chance to visit the micro museum in Ramsgate it's excellent!
---
---
Dynamite Dan
Posts: 1685
Joined: Mon Nov 13, 2017 3:16 pm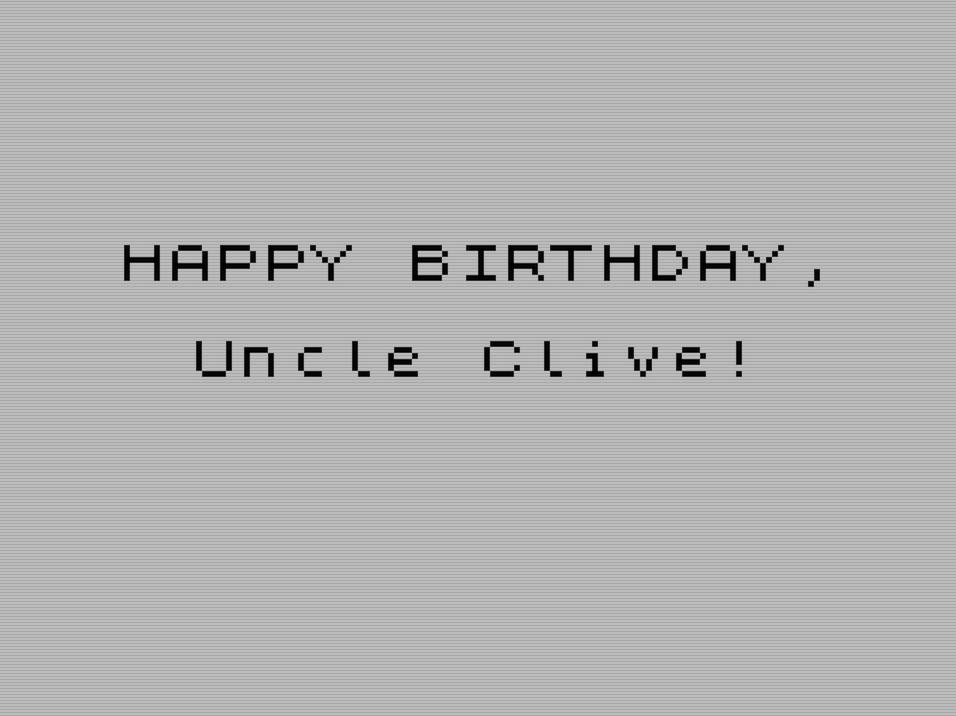 ---
Rick Dangerous
Posts: 2797
Joined: Tue Nov 14, 2017 6:55 am
Location: Málaga, Spain
80??? Wow!

Happy birthday!!!
---
"Eight decades (and nine months) ago, something grew inside of your mother... that thing was YOU!"

Happy day of birthings, Sir Clive. If it hadn't been for a small doorstop-shaped computer that was already obsolete by Christmas 1983 but was deemed suitable for a "gifted" four-year-old (that would later turn out to be a symptom of a less attractive dreadful affliction), I wouldn't be who I am now - for better or worse. But at least that obsolete doorstop-shaped computer and its more powerful successor in a grey case (made by a Jewish East End wideboy who says "YOU'RE FIRED!" a lot) has been amusing me at times where I've really needed it for 36 and a half years, and on balance, it's been worth it.

I will celebrate with a bottle of rhubarb cider, which at least represents the red and the green in the Spectrum stripes, as well as the two colours (that aren't black and white) of the QL's text mode. Skål!
---
...I'm sure Sir Clive would appreciate the Dethklok reference...

Happy birthday indeed...! Fantastic that there are thousands of those wondrous creations from almost 40 years ago all around the world and still working. And also a few C5s <cough>.
...I may celebrate this weekend by eating a bowl of oxtail soup, and striking people around the head with a rolled-up newspaper....
---
Here's the INK/PAPER 6. I didn't even think of it until you said, but tonight I sampled the apple wine I started brewing during lockdown madness, on April 23rd (the Speccy's birthday of course), which I labelled "Old Clive".
Happy birthday baldy!
---