Seems he was using a bright 1 black attribute as delimiter. That's clever:
I didn't fully appreciate that Sidewize / Crosswize run at 50fps.
Me either, but when I've learned about EmuZWin's real FPS indicator, I started to test games, and I loaded Sidewize because I can, and I got instantly blown again about how well it performs.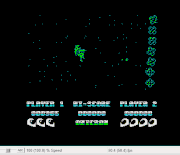 I now notice the flickering, EmuZWin seems not to be doing a great job emulating this.