There's been plenty of talk on these pages recently of animated counters on loading screens. That has reminded me of the first time I loaded up Joe Blade 2 and saw this: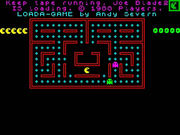 ...which, if it's not obvious, was a basic rendition of Pac-man that could be played as the game proper loaded. I can still remember seeing this for the first time and simply not believing it to be possible. The thought of it impresses me even now.
There must be more like this -- mini-games that are playable during load -- but I'm not sure I ever came across any. Moreover, in these days of emulators and snapshot loads the chances of stumbling upon one accidentally are minimal.
So... anyone remember any others?