General info for: Heavy on the Magick
Title:
Heavy on the Magick
Message Language:
English
Machine Type:
ZX-Spectrum 48K
Comments:
first (and only) part of a planned trilogy
Known Errors:
Bugfixes provided by Bedazzle and Einar Saukas:
In the original Gargoyle Games release, asking Ai about door to Paradise provides answer about Tertia instead. This bug was later fixed in Rebound and Your Sinclair re-releases.
There's a second "Room of Misery" misplaced in the middle of Trollywnd. Fixed using POKE 29553,130.
Your experience raises whenever you enter a new special room, except for room "word is no word" where experience is raised outside. Fixed using POKE 44978,88.
If you type "APEX,TA" then Apex will reply "GLAD TO HELP" but he won't go away. Fixed using the following patch:


        org $917d
        call $f820

        org $bec2
        db $80

        org $f820
        ld a,($af57)    ; IF PEEK ($af56)<>2 OR PEEK($af57)<>17 THEN RETURN
        cp $11
        ld a,($af56)
        ret nz
        cp $02
        ret nz
        pop af          ; (remove return address from stack)
        jp $918b        ; ELSE GOTO $918b

Graphics for cyclops arm are corrupted.
It's possible to CALL objects, however they cannot be taken or examined, and they will float in the air.
Writing very long sentences will corrupt memory since there's no check for text input length.
Original WoS Score:
8.38 (180 votes)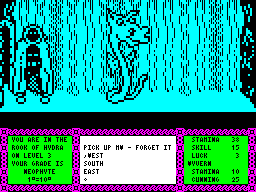 Compilations featuring this title
Release Year: 1989

Release Type: Full version

Release Year: 1991

Release Type: Full version

Titles in "HeavyOnTheMagick" Series
Additional File Downloads