General info for: Rocky
Machine Type:
ZX-Spectrum 48K
Original Price:
1800 ptas.
Original Price according to SPOT/SPEX:
7.95
Comments:
Originally also released under the name of 'Rocky' in the UK, but almost immediately renamed to 'Rocco' for copyright reasons.
SPOT Comments:
boxing; aka. Rocky
Original WoS Score:
6.60 (27 votes)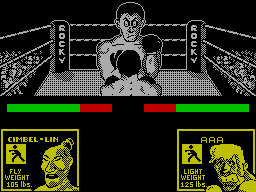 LICENCE TIE-INS / INSPIRATIONS

Releases
Original Release
1800 ptas.
Different authors according to SPOT/SPEX
Compilations featuring this title
Additional File Downloads
Article Type: Full-page ad
Article Type: Advert - ref. "Rocky"
Article Type: Full-page ad