General info for: West Bank
Machine Type:
ZX-Spectrum 48K
Spanish Price:
1950 ptas.
Known Errors:
Bugfix provided by Luzie and GReW:
This game runs MCode which reads Kempston from port
12 (instead of
31), so it's not compatible with all Kempston Joystick interface versions. Fixed using POKE 54166,31
Original WoS Score:
8.27 (139 votes)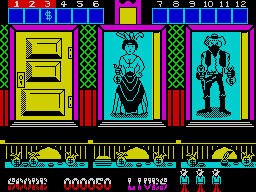 License Information
Name: Sega Enterprises Ltd

Country: Japan

Type: Arcade coin-up

Original Name: Bank Panic!


Different authors according to SPOT/SPEX
Compilations featuring this title
Additional File Downloads