General info for: Knight Lore
Availability:
Distribution denied
Message Language:
English
Machine Type:
ZX-Spectrum 48K
Average mag. score:
90.57% (7 reviews)
Annual Awards:
Winner of the C&VG 1984 Golden Joystick Awards - Game of the Year 1984.

Winner of the Game of the Year Awards 1985 - Best Arcade Adventure.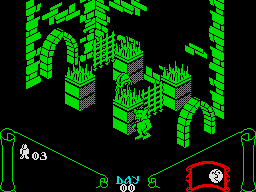 Compilations featuring this title
Titles in "SabreWulf" Series
Additional File Downloads